When it is Necessary to Seal Your Fanuc Servo Motor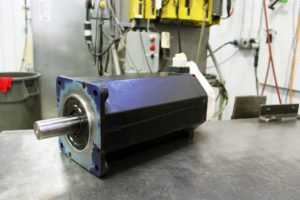 In Manufacturing, and in particular, the Machine Tool industry, the environment inside a machine is usually very extreme. A CNC machine uses cutting fluids and other lubricants to aid in the 'cutting' of steel in the shaping of a part. These fluids, mixed with metal shavings and other solids, causes excessive servo motor failure. This combination of contaminates breaks down the bearings inside the motor, damages the shaft and the stator, wreck havoc on the seals, which then will suck fluid and lubricant into the stator (as pictured above). You can follow the procedure below, as our technician Scott, performs the sealing after a repair.
If you have a servo motor that has repeated failure, you should look at the environment it is in and decide if sealing the motor would be beneficial. It is a value-added procedure in addition to a standard repair so there is an added cost to doing so.